Duck Meatballs
smoked Gouda, Asiago & scallion polenta cakes, brandy mushroom sauce
$15
Fried Calamari
crispy New England calamari, peppadew chili glazed
$12 / $18
Calamari Fra Diavolo

calamari in a spicy pomodoro sauce, fresh shoshito peppers
$16

Carpaccio
beef tenderloin, shaved Parmesan, capers & arugula, lemon infused extra virgin olive oil
$16
"The fried calamari is the best I've had, my nephew and I split the MezzaNotte salad (delicious with pears, apples, figs, and goat cheese), and I got my favorite for dinner, the rabbit ragu."
--Guest on 6/14/2018
Artichoke Hearts

crispy hearts with Sriracha aioli & lemon

$9
Chips

potato, Brussles sprout & beet chips, creamy & cumbled Gorgonzola

$9
Sausage & Clams
little neck clams, Italian sausage, zesty pomodoro sauce
$16
(add pasta $6)
Meats & Cheeses
Imported Italian meats & cheeses with nuts, olives & fig jam
$16 / $25



MezzaNotte
baby greens, crispy goat cheese, hazelnuts, dried figs, apples, pears, house vinaigrette
$14
Beets & Burrata

roasted beets, creamy Maplewood Farms burrata, pistachio pesto

$12 gf

Caesar
hearts of romaine, white anchovy, classic Caesar dressing
$10
(add grilled or crisp chicken breast $7)
"Once again this restaurant gave us a perfect meal on every level. From the warm welcome to the professional/personable service to the creative menu,"
--Guest on 9/10/2017
"Crazy" Lasagna
free formed lasagna, Chef's three meat Bolognese
$14 / $22
Rabbit Ragu
fussili pasta, braised "Wanabea Farms" rabbit, mushrooms, spinach, crisp pancetta, Marsala sauce

$15 / $23
Linguine & Clams
white wine garlic sauce, red pepper flakes
$13 / $21
Rigatoni Siciliana
Sweet & spicy Italian sausage, sautéed eggplant, pomodoro sauce
$13 / $21
"MezzaNotte is one of my favorite restaurants in the capital region. I have always had wonderful service by the staff and they've gone above and beyond."
--Guest on 10/21/2017
Lobster Fettucine

fresh Maine lobster in a sherry lobster cream

$18 / $30

Shrimp Carbonara

spaghetti, shrimp, peas, pancetta, roasted grape tomatoes, light cream sauce

$15 / $24

Agnolotti
butternut squash & ricotta, hazelnut butter

$13 / $21
Mushroom Risotto
prime beef tips, asparagus & wild mushrooms

$15 / $25 gf

Gluten free pasta available upon request.
($2 / $4)
"I was pleasantly surprised by new and unique foods. I was happy to experience a menu less traditional and bursting with flavor."
--Guest on 8/30/2017
Broccoli rabe


Spinach & Garlic


Pasta Pomodoro


Potatoes


Risotto


Roasted Root Vegetables
Brussels Sprouts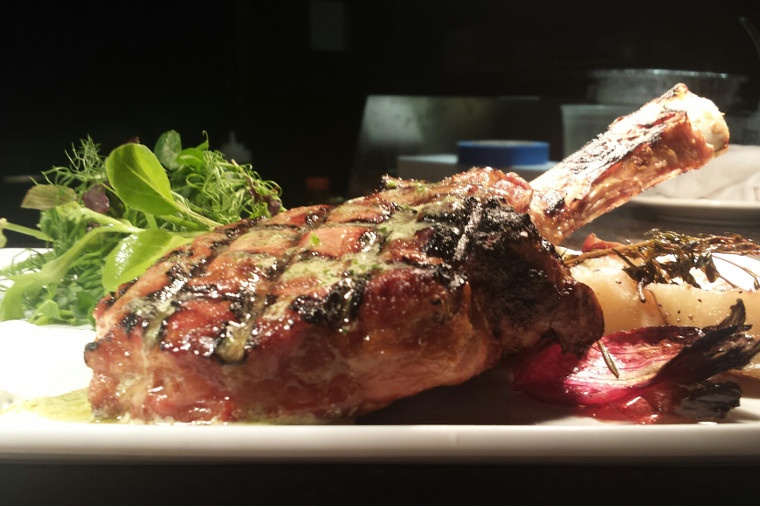 Veal -or- Chicken Saltimboca
veal medallions, prosciutto & sage, mashed potatoes, spinach, veal demi glaze
$28 / $23

Filet
grilled 8oz "Chairman's Reserve" prime certified Angus tenderloin, roasted root vegetables, broccoli rabe & choice of mushroom Cognac, or Gorgonzola sauce
$38
Stuffed Pork Chop

mushroom stuffed, roasted root vegetables, broccoli rabe

$27
8
"This is #1 in the Capital District in my experience. Many others are flashes in the pan or just plain stuffy and overpriced. Mezzanotte is a gem."
--Guest on 1/18/2018
Salmon
corn, blueberry & Peppadew pepper salsa

$27 gf

Scallops & Shrimp

roasted corn & tomato risotto
$29 gf

Catch & Cut of the day
chef's daily preparation from the earth and sea

$MKT


Veal Chop
16oz bone-in, grilled, roasted root vegetables
$38 (when available) gf

Venetian Tiramisu


Panna Cotta


Limoncello Parfait


Ricotta Cake


Gelato & Sorbetto


Crème Brûlèe


7 Layer Chocolate Cake
"From their spectacular menu of traditional Italian with a contemporary flair, to the excellent service, MezzaNotte is hard to beat."
--Guest on 4/30/2017